I was excited for Mount Rainier National Park. I was meeting a group of runners and their "support crew" for a few days of camping and running. I connected with them through the Seven Hills Running Shop in Seattle. Dana, Jessie, and Tim were planning to run the entire 93 miles of the Wonderland Trail in three days starting on Friday. I was going to join them on the last leg which was around 29 miles for my park marathon. The rest of the time I was part of the crew consisting of Mark, Luke, Ryan and Andrea.
On the way to Mount Rainier I made a detour to Mount Townsend in the Buckhorn Wilderness of the Olympic National Forest, managed by the U.S. Forest Service, for an official photo shoot. Professional photographer Nick Danielson contacted me and offered to take some action photos and get in a trail run. We did a 10 mile run where he captured me on the trails with low clouds hanging close. The weather wasn't the best for majestic mountain vistas but I really like the effect. For those who may be photographed running in the future Nick offered me some advice. Remember "high knees" when running (which is good advice regardless) because it makes for a more dramatic photo. Seemed to work.
First day of the three-day Wonderland Trail run started at the Cougar Rock Campground and went clockwise to Mowich Lake Campground. The second day was to go from Mowich Lake to the White River Campground and the leg I was running on the third day was from White River back to Cougar Rock. The support crew saw Dana, Jessie and Tim off on the first leg around 8am Friday morning. We packed up and headed to Mowich Lake. Mowich Lake is a "walk-in" campground. While I'm sure they exist at other parks this is the first one I've seen. Basically, there is a parking lot for your car but you have to carry all your camping gear a very short distance into a designated area for tents. You are not allowed to camp in the parking lot or sleep in your car. It was very clearly described in the posted campground rules. We will come back to this because many of you know I have a rooftop tent which is permanently affixed to my car. There is no walking it in.
Worried
Our ultrarunning trio expected the first leg to take them 10 to 12 hours. That would put them into Mowich Lake between 6:00 and 8:00pm. The support crew got the sites all set up and the food prepped. Mark left at around 5:00pm and ran the opposite way onto the trail. He was going to meet up with the group and run back with them. He returned around 8:00pm alone. It was getting very dark. At that point there was barely enough light to see your footing and we knew only one of the three had a headlamp. We were all a little surprised that they weren't back yet knowing the strength of their running abilities.
As it got darker and colder we obviously started to worry that something went wrong. I was the only runner that remained in the group so I got out my pack and stuffed it full of emergency space blankets, water, headlamps, and other first aid items. I strapped on my headlamp and started down the trail at 8:45pm. We made an agreement that I would be gone three hours. Even in the pitch black I could cover a reasonable distance in that time which would hopefully let me meet up with them.
Luckily within only two miles I reached two of the runners. They had run on ahead to let the crew know what was happening. One of the runners was experiencing dehydration and stomach problems. The two were using the flashlights on their cell phones to see the trail as they ran. Our other friend was unable to keep anything down, even water. I gave the two their headlamps and they continued up toward camp. I went the other way toward the ailing runner. They were only another four-tenths of a mile down on the trail moving but very slowly. I offered water which was accepted but shortly thereafter spat up on the trail. We walked slowly together. I tried to offer words of encouragement without being overly exuberant. About 30 minutes later Ryan arrived. He supplied a pair of hiking poles which greatly assisted out friend's ascent up to the campground. The last two miles, incorporating several stops to rest, took over two hours.
Longing for Lodging
I mentioned earlier that I was unable to use my rooftop tent at the walk-in campground. I had decided before all of the activity that once the runners arrived I would leave to find another campground or inexpensive motel. Some encouraged me to set up the tent in the parking lot and take a chance. I decided against it. It was a violation of the rules for that campsite and as a National Park advocate I want to follow the posted guidelines. I do believe that law enforcement rangers regularly patrol all the campsites. The last thing I wanted was a rap on the tent at 2:00am telling me to pack it up and leave.
Once everyone was safe and resting I left. It was around 11:30pm. I was feeling good and remarkably awake. Between Mowich Lake campground in the park and Enumclaw, WA, a one hour and twenty-minute drive, I saw little to no lodging. However, in Enumclaw there were a number of inexpensive options. I stopped at the Econolodge. I chatted with the front desk staff. The hotel and most in the area were booked. It seems there was a concert at the local casino. Damn you Hall and Oates! Failure #1.
I continued toward the White River Campground. I figured there had to be another motel along the way. Um, no, not really. The first thing I came to was the Alta Crystal Resort. Alright, I'm tired. It is after midnight. I'll splurge. Well, at the Alta Crystal Resort there is no night desk or posted contact number I could find. Failure #2.
At that point I was only about 20 minutes from White River so I figured I would just stay there. I arrived and did three loops of the grounds. Full. In the back of my mind I had a feeling that would be the case so I wasn't completely surprised. Failure #3.
OK, now it is a game. And surprisingly enough, I wasn't frustrated yet.
I remember passing the Crystal Mountain Ski resort which had several lodging options. I drove the 30 minutes from Mount Rainer National Park out and up the switchbacks to the resort. Now I was just being stubborn. I arrived to the same result as Alta Crystal which I really expected. No one was working the front desk even though I would bet they had lots of space available. I even rapped on the glass quite a bit. Failure #4.
On the road to White River there are three National Forest campgrounds. Silver Springs is the closest to Mount Rainier followed by Buck Creek Recreation and then The Dalles as you move away from the park. I headed to Silver Springs. I drove around the site twice. Full. Failure #5.
Now I'm a little more frustrated. And damn is it dark.
I drove next to Buck Creek. When I turned in I couldn't see the camp site within the first few hundred feet and I didn't know how far back on the gravel road I would to have go to find it. I wasn't in the mood for a long bumpy drive so I turned around. Failure #6.
And, on to The Dalles campground in the Mount Baker-Snoqualmie National Forest. Finally, space. I pull in and set up the tent after 2:30am. I found the slot to pay the $18.00 fee so the caretaker wouldn't wake me up at 7:00am and went to sleep.
Wonderrun
When I arrived the next day at White River the group was already there and had scored two campsites next to each other. All the runners were fine and resting. They had made the decision to forgo the second leg of the Wonderland Trail run. Dana still planned to join me for the third leg the next morning. So we all relaxed and chatted like we've known each other for years. It was very comfortable.
I made an upside-down campfire which I saw online. I told everyone it would either work or be a total disaster. Luckily it worked. In fact, several said that it was the best campfire they've ever had. Score one for the aspiring outdoorsman. It was still roaring at 9:30pm as I went to bed in order to be ready for the next day's run.
Dana and I started on the Wonderland Trail at 7am on Sunday. Our route from White River back to Cougar Rock allowed us a touchpoint with the group around mile 18.
What an amazing run! We were wrapped by beautiful forests, wildflowers, glaciers, streams, snowpack, fog and sun. We ran through the meadows of Summerland and over Panhandle Gap the highest point on the Wonderland Trail. For those planning this trip please note, the National Park Service has done extensive work on the steep portions of the trail to mitigate erosion from the foot traffic and weather. The installation of logs created stairs which lead up and then down. Practice in your house, apartment building or office. There are a lot of stairs.
The natural beauty of Mount Rainier seemed to have no end. We admired the views but kept a nice solid pace. We both talked and talked and talked. Dana acted as my PR rep promoting my project when we met hikers along the way. Pretty funny. This what it is all about - getting out in nature and enjoying it with others. I was lucky to have such a strong runner with me. At mile 18 Tim joined and got to listen to us playfully bitch about all the stairs for the next few hours. At mile 26 we met Jessie, Mark, Ryan and Andrea who ran the rest of the way with us.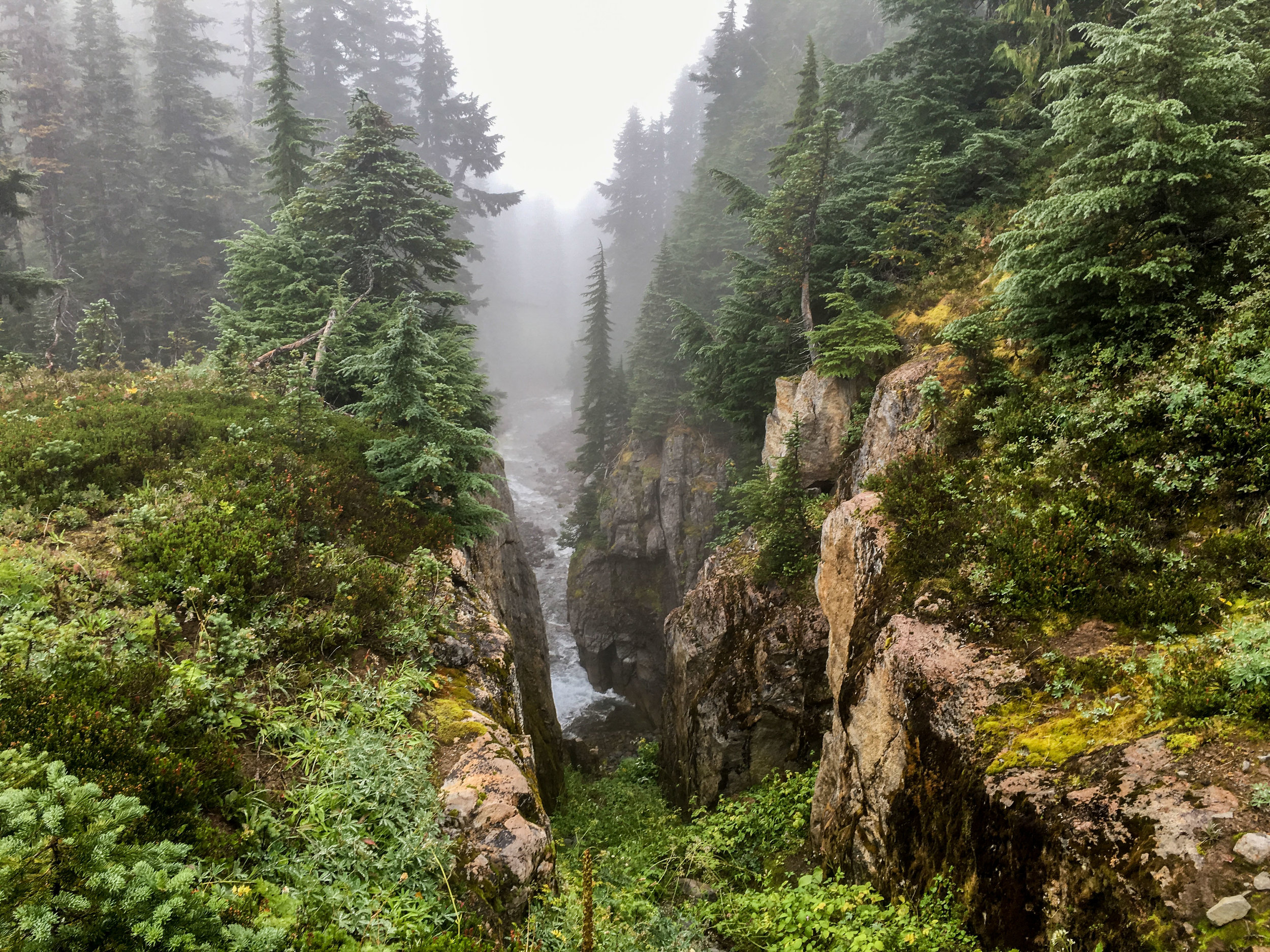 At the trailhead near Cougar Rock we rested, took photos and prepared to leave. While Dana and I were out running the group planned to stop for dinner at the Copper Creek Inn & Restaurant right outside the park. In celebration of marathon #14 of my project they offered to buy me dinner. I was honestly touched. I just met these people three days ago and I can say with all conviction that they are now lifelong friends.